How are projects selected/advanced at Northwestern Proteomics?
Just like your science, proteomics is not simple! So, we ask you to submit a collaboration request (below). Once we receive that, one of our senior staff will contact you within a couple of business days to ask any questions that we have and put a scope (and provide an ideaon the experiments. Once that's complete, we will discuss your project internally and decide the staff member and instrument to undertake you project and get going! Typical time from submission of request to work start is 7-14 days, depending on complexity of the analysis and the present staff/instrument load.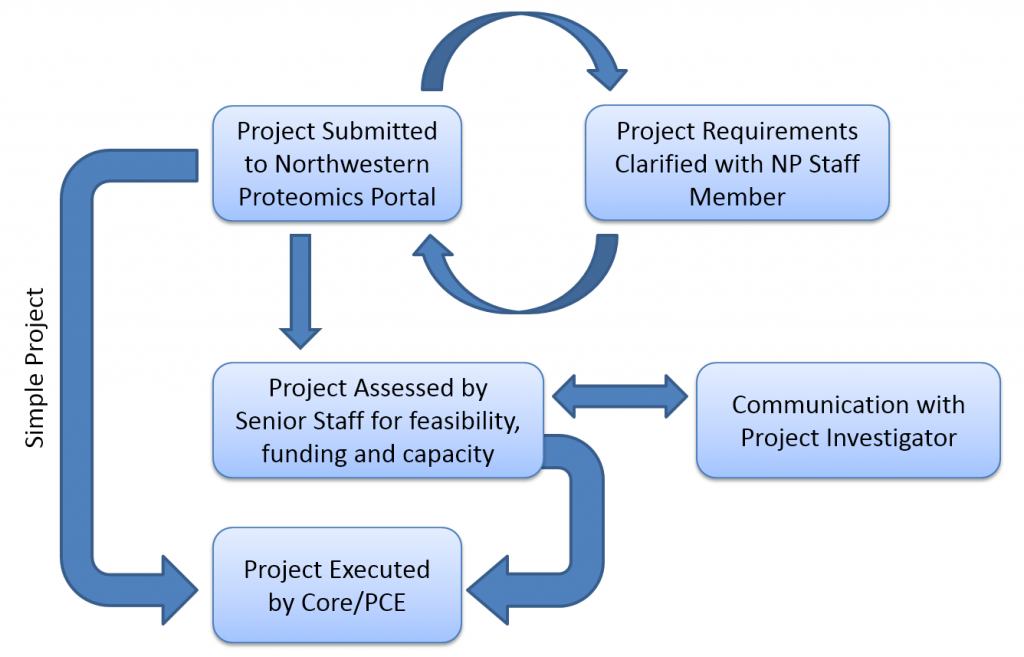 How do I ship samples between campuses?
If you are on the Evanston Campus, you can bring the samples to our facility in Silverman Hall, Room B550. Our Chicago campus facility is located in Olson Pavilion (across Fairbanks from Lurie) on the 8th floor, Room 8303/8305/8307.
If you need to ship samples between campuses, please use the Robert H. Lurie Comprehensive Cancer Center Courier Service for the transport between campuses. As courier service does not deliver to the core laboratory directly, please notify us by email when you ship the sample. In return, we will collect the samples and notify you. If you do not notify us we will not be responsible for loss of any samples.
The approximate schedule of the courier service is as follows:
9:30 am Evanston Silverman Hall 4704
11:00 am Chicago Olson 8524
1:00 pm Evanston Silverman Hall 4704 (Drop off only)
How do I submit a sample to be run?
Information on sample submission can be found here.
What is the typical turnaround time?
We are always working! 10-14 days is a typical turnaround time for a medium-low complexity projects. Simpler projects are quicker, more complex projects take longer. Holidays and grant deadlines also complicate matters.
Where are you located?
We have two locations:
Silverman Hall Basement B550, Evanston Campus
Olson Pavilion 8th floor (8303-8311, east side of hall), Chicago Campus
We look forward to serving you from both locations!
How can I add proteomics to my proposal?
We'd love to help you with that! Contact us with the collaboration request form below. We'd like to meet with you before providing a letter of support. We want to understand the project being proposed so that we can provide the best letter of support possible.
Will you write a letter of support for my grant?
The short answer is "probably"! We request 7-10 business day notice. (More advance notice is preferable around major NIH grant deadlines.) Contact us with the collaboration request below and we'll chat about your project and make sure the fit is right! Please let us know if your grant was successful so that we can begin to plan experiments with you!