This episode of Northwestern University Feinberg School of Medicine's Breakthroughs Podcast features Neil Kelleher, PhD, director of Northwestern Proteomics and Chemistry of Life Processes Institute.
Millions of molecular proteins are swimming through our body's cells and many studies have discovered that these proteins are the main drivers of all human diseases. Scientists are now mapping proteins the way the Human Genome Project mapped genes. Northwestern's Neil Kelleher is at the forefront of the Human Proteoform Project and explains how it could lead to more targeted and effective diagnostics and treatments for diseases.
"Proteins are a critical connection between the genome and our diseases. All human diseases involve proteoform biology, so therefore, proteoform measurement is the key linkage between our genome and our blueprints of life and then actually living life."
— Neil Kelleher, PhD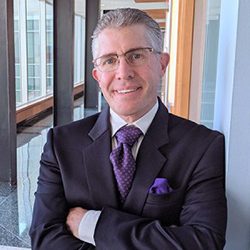 Director of Chemistry of Life Processes Institute
Director of Northwestern Proteomics
Professor of Weinberg College of Arts and Sciences
Professor of Medicine in the Division of Hematology and Oncology and Biochemistry and Molecular Genetics
Member of Northwestern University Clinical and Translational Sciences Institute
Member of the Robert H. Lurie Comprehensive Cancer Center
Member of the Simpson Querrey Institute for Epigenetics

Episode Notes

A recent study published in Science Advances outlined the plans and goals for the Human Proteoform Project atlas. Neil Kelleher, PhD, is a pioneer in top-down proteomics research – the first to use the technique in his lab in 1999. He is working with the Consortium for Top-Down Proteomics on this initiative. The large undertaking will characterize known proteoforms (specific protein molecules) and aims to systematically discover and analyze new ones in human tissues, cells and fluids.
Other topics covered:
For precision genomics, regenerative medicine and all goals to improve human health in the next century, Kelleher says we require more knowledge about proteins. Kelleher thinks scientists will begin mapping proteoforms at a more rapid pace over the next five to 10 years to better understand human disease and biology.
In the short term the team plans to work with the U.S. government and other public sectors to launch the project before, much like the Human Genome Project, they seek contributions from the private sector.
Kelleher details projects he is working on in collaboration with Feinberg scientists in the areas of neurology, neurodegeneration, cardiology and immunobiology. In his role as director of Chemistry of Life Processes Institute, he strives to help basic scientists on the Evanston campus understand unmet clinical needs at the medical school.
Recorded on Nov. 17, 2021.
Click here to view the original Northwestern Feinberg Breakthroughs Podcast.