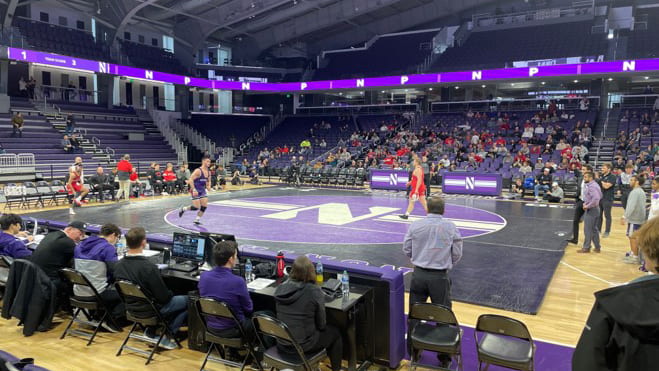 What do wrestling and research have in common?
"Hard work and discipline," says student-athlete Troy Fisher, one of four Northwestern wrestling team members who interned for the Kelleher Research Group last summer.
Fisher and fellow students Jon Halvorsen, Andrew Davison, and Lucas Davison were tasked with collecting data on diagnostic tests for infectious diseases, such as COVID-19, cancer, and autoimmune diseases to gain insights into the methodologies employed by the various companies and laboratories that produce these tests and identify potential areas for collaboration.
"Finding all that information was a lot of work," says Fisher. "For each test, we looked through online user manuals to identify the protein target they were testing for to get a positive or negative result, the biomarker they were testing for which would be serology or antigen test-related, and whether or not a mass spectrometry test could be beneficial."
The Kelleher Group employs a very sophisticated mass spectrometry technology combined with an immuno-enrichment step to analyze proteins of interest called Ig-MS. This technology, different from traditional tests that only measure total protein amount, analyzes and quantifies all the various forms of the protein of interest present in a clinical sample, known as "proteoforms". Proteoforms of the same protein can have different functions and therefore are more precise markers of health and disease. Their analysis is fundamental for the identification of novel therapeutic targets and the development of better diagnostics tests. Importantly, Ig-MS applied to the analysis of antibodies provides valuable information on the entire repertoire of antibodies produced against a given antigen (i.e., viral protein) and the analysis of these repertoires could lead to the identification of proteoform patterns of protection. During the COVID-19 pandemic, Ig-MS was applied for the study of antibodies produced in response to SARS-CoV-2 infection and COVID-19 vaccination. However, this technology can be broadly applied for the analysis of antibodies and immune targets in other infections, autoimmune diseases, and cancer.
"The goal of the wrestlers' research was to identify traditional serology tests in a variety of diseases and select a list of potential candidate biomarkers for our mass spectrometry analysis. That information helps us expand our line of research in applying our novel mass spectrometry technology for the analysis of antibodies and immune targets with high clinical relevance," says Eleonora Forte, the research assistant professor at Northwestern Proteomics who supervised the team. "Their research helped the team at Northwestern Proteomics prioritize candidates and to start a program aimed at the proteoform-level characterization of key immune players relevant to the academic, industrial, and governmental spaces".
Halvorsen is a senior who studies learning and organizational change. The Davison brothers are both graduate students at the Kellogg School of Management. While the team had fewer hours of practice during the summer than when in season, the students would wake up between 5:00 a.m. and 6:00 a.m. every morning to lift weights or run before going to their internship and then head to wrestling practice after a full day of research.
"It was a lot of fun," Fisher says. "We've all wrestled with each other, and that's a very close contact sport, so we're super comfortable working with each other. Going into the internship, we were already a team, ready to collaborate with each other and get straight to business."
Fisher, a biology major, is currently completing his senior thesis in the Kelleher laboratory. As part of his thesis, he performs individual ion mass spectrometry to measure proteoforms of various immune biomarkers in a human leukemia cell line. His research could become the "baseline example" of measuring these biomarkers, which is necessary for evaluating health and disease states. Fisher plans to pursue his master's at Northwestern in a biomedical-related field while continuing to wrestle for the University. His ultimate goal is to attend medical school.
The interns found several lines of research that are interesting to the group.
"We always want to be sure that we are asking ourselves how our research can actually help people outside of our academic bubble," says John McGee, PhD, a researcher in the Kelleher Group. "The interns' work allows us to ask how our research and our science can step into this space in a productive way," says McGee.  "The thing I kept hitting home to the team was to try not to get lost in the scientific research and focus instead on the fundamental skills of broad analyses that can be used in any career field."
By Grace Finnell-Gudwien and Lisa La Vallee
Images by Neil Kelleher
Top Image: Lucas Davison, who interned last summer at the Kelleher Research Group, takes on an opponent from Ohio State University. Davison locked up All-American distinction for the second time in his career to highlight Northwestern wrestling's second day of action at the NCAA Championships inside the BOK Center in Tulsa, Okla.