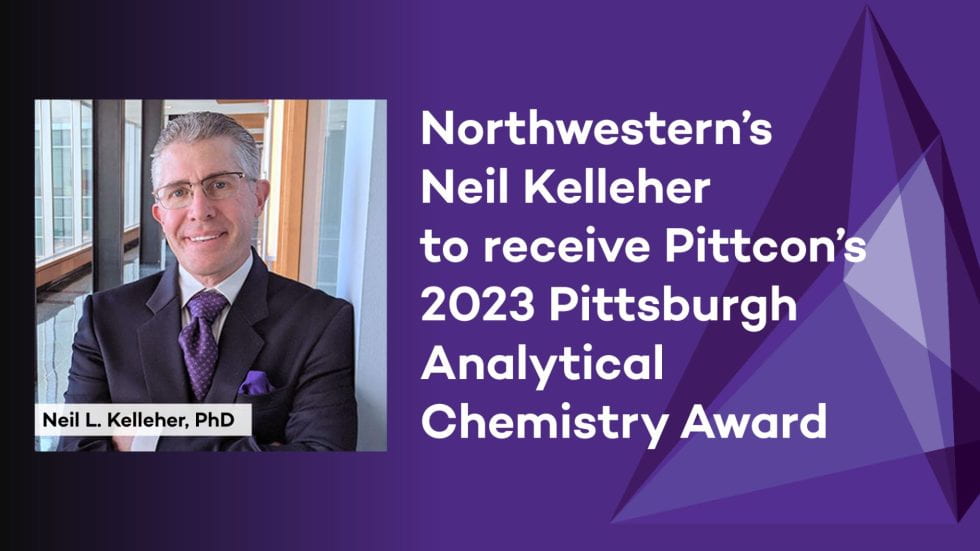 The Society for Analytical Chemists of Pittsburgh (SACP) and the Pittsburgh Conference on Analytical Chemistry and Applied Spectroscopy (Pittcon), will present the Pittsburgh Analytical Chemistry Award to Northwestern's Neil L. Kelleher, PhD, the Walter and Mary E. Glass Professor of Molecular Biosciences, Professor of Chemistry, and Professor of Medicine at Northwestern University, at a special Award Symposium at Pittcon 2023 in Philadelphia on Sunday, March 19, 2023. The award was established to recognize a scientist's significant contributions to the field of Analytical Chemistry including the introduction of a significant technique, theory, or instrument or providing exceptional training or a fertile environment for progress in Analytical Chemistry.
Kelleher, the director of Northwestern's Chemistry of Life Processes Institute and Northwestern Proteomics, and a member of the Robert H. Lurie Comprehensive Cancer Center, is an internationally recognized scholar, leader, mentor, and teacher in modern proteomics and biological mass spectrometry, inventing powerful new methods to analyze and understand how human cells work at the molecular level. He has authored over 400 publications with more than 38,000 citations. He is listed as an inventor on 12 patents and has launched three successful entrepreneurial spin-offs. Kelleher notably established and directs the National Resource for Translational and Developmental Proteomics at the University. The NRTDP is a Biomedical Technology Research Resource supported by the National Institute of General Medical Sciences focused on developing and disseminating new technologies for top-down proteoform characterization.
Kelleher's work related to the Human Proteoform Project and the Consortium for Top-Down Proteomics has developed the case and tools for studying proteoforms in biology and medicine. Kelleher's creativity, productivity, and influence have redefined the boundaries of what's possible in modern proteomics and measurement science as they are applied to chemistry, biology, and clinical and translational research.
Kelleher's research focuses on the areas of top-down proteomics, natural products discovery, and cancer biology.  He and his 60-person team drive both technology development and applications of high-performance mass spectrometry in proteomics and microbial natural products.   His contributions have been recognized by multiple awards, including the ASMS Biemann Medal and the Allen Distinguished Investigator Award.
"The addition of Professor Kelleher's name to the long list of former distinguished Award winners adds further prestige to the 46-year history of the Award," said Brian Strohmeier, PhD, Chair of the Pittsburgh Analytical Chemistry Award Selection Committee.
As the honoree, Kelleher will give a talk and lead a session with other proteomics luminaries entitled, "The Case to Scale Proteoform Measurement and Biology to the Entire Human Proteome." The session will take place on March 19, 1:30-4:50 p.m. in Room 124. In addition to Kelleher, speakers will include:
Jonathan Sweedler, University of Illinois; Gloria Shenkman, University of Virginia; Lloyd Smith, University of Wisconsin-Madison; and Luca Fornelli, University of Oklahoma.