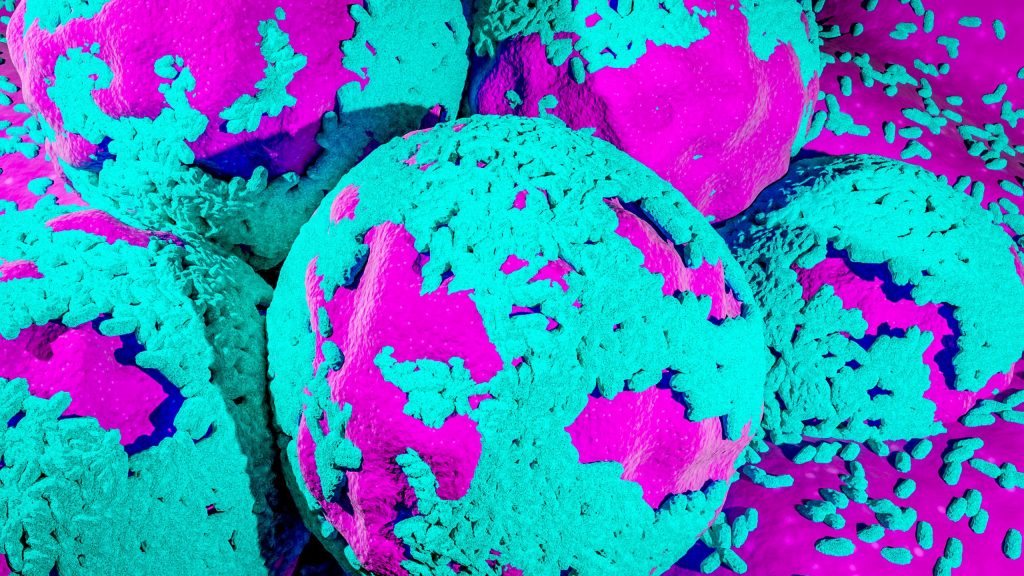 For over three years, Northwestern Proteomics has collaborated with the Women's Health Integrated Research Center (WHIRC) and the Women's Service Line at Inova Health System to better understand ovarian cancer in hopes of helping women receive the best treatment.
The collaboration with the WHIRC at Inova is overseen by Thomas Conrads, PhD, the director of Women's Health Research. Their team of researchers enroll gynecologic cancer patients in their biobanking and research protocols to collect residual tumor specimens from cancer surgeries and conduct comprehensive molecular testing. This effort includes sending samples of ovarian cancer tumors and surrounding tissue across the country to Northwestern Proteomics. These samples are thinner than a human hair and contain a small number of cells. Rafael Melani, PhD, a research assistant professor in Northwestern Proteomics, and his team perform advanced proteomics analyses of these deidentified samples to determine the unique protein signatures of ovarian cancer.
"We are trying to figure out the complex biology in these cancer tissues," Melani says. "We try to identify and characterize the proteins and all the protein forms that are on these samples."
To accomplish this, the researchers examine the proteoform (post translationally modified forms of proteins) content of the cells to determine how cancerous and non-cancerous cells diverge and the unique features of each cell type. They compare the proteoform composition between the primary tumor tissue, tumors that have metastasized into other areas of the body, and healthy tissue. Through the team's refinement of proteoform analysis methods over the past few years, they are able to identify possible markers that signal cancer or noncancer in tissues provided by the WHIRC at Inova.
"The next step is to analyze all the samples that we have in the freezer that Dr. Conrads sent to us to compare the distinct tissues," Melani says, "and to identify proteoforms that may be responsible for aggressive ovarian cancer."
Using this methodology, Northwestern Proteomics can identify potential biomarkers that could signal which cells need to be removed in surgery for ovarian cancer treatment, Melani says. The biomarkers could also aid in early diagnosis of ovarian cancer, which currently remains undetected until advanced stages of the disease.
This collaborative research project is a part of a $7 million grant from the National Institute of General Medical Sciences at the National Institutes of Health which funds the National Resource for Translational and Developmental Proteomics (NRTDP) by Northwestern Proteomics. The NRTDP also benefits from funding from the Sherman Fairchild Foundation. The NRTDP strives to develop new ways to study proteomics and enables their application to a broad range of biomedical research challenges. In addition, the NRTDP promotes collaboration between technology developers at Northwestern Proteomics, and clinicians, such as those at Inova Health, seeking new approaches to areas of outstanding clinical need.
"It's been amazing, they're great at what they do," Melani says about collaborating with the Inova team. "They are working on discovering new cancer markers and predicting the outcome [of cancer treatment] using proteomics, metabolomics and genomics altogether."
by Grace Finnell-Gudwien