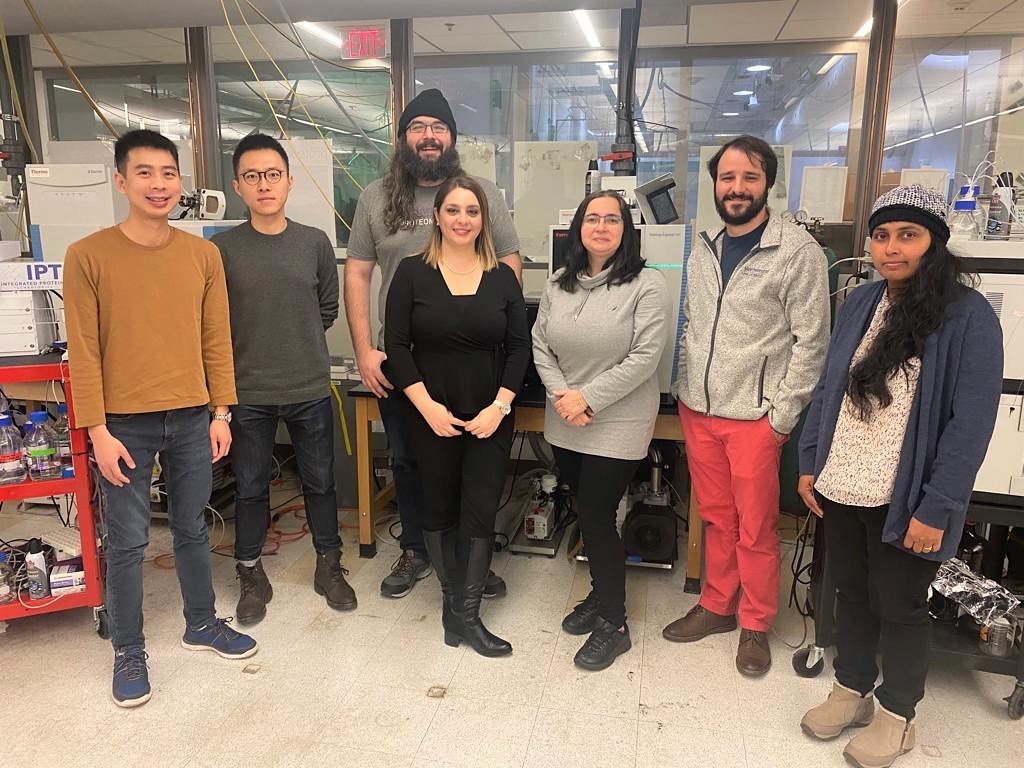 Feature image: (Left to right: Proteomics Center of Excellence researchers involved in CTC projects: Che-Fan (Jeffrey), Huang, PhD, Pei Sue, PhD, Benjamin DeS Soye, PhD, Eleonora Forte, PhD, Fatma Ayaloglu Butun, PhD, Rafael Melani, PhD, and Vijaya Kanchustambham, PhD. Others not pictured: Neil Kelleher, PhD, Nathaniel Henning, PhD, Michael Hollas, PhD, and Michael Caldwell, PhD)
The Comprehensive Transplant Center (CTC) at Northwestern University's Feinberg School of Medicine and the Northwestern Proteomics Center of Excellence (PCE) have teamed up to address issues and improve the safety and efficiency of organ transplants.
Although the demand for organ transplantation is high, organ availability is very limited. According to Satish Nadig, MD, PhD, the director of the CTC and the Chief of Organ Transplantation in the Department of Surgery, there are 120,000 people on the waiting list for transplants, but only about 8,000 organ donors per year. In addition, 40 percent of the organs obtained for transplant are not used because of logistical issues or the organ being too unhealthy for transplant.
The CTC and Northwestern Proteomics, led by Neil Kelleher, PhD, a globally recognized proteomics expert, hope to address these issues through a number of collaborative research projects. These initiatives include studies aimed at discovering proteoforms, which are the different forms of a protein, as potential predictors of transplant rejection and pre-transplant organ quality assessment.
A joint study with Josh Levitsky, MD, MS, a professor of surgery at the CTC, recently led to the identification of a proteoform signature that could be used for predicting acute liver rejection. Similar studies for predicting kidney rejection are also ongoing with Joseph Leventhal, MD, PhD, a professor of surgery at CTC, and his team.
Eleonora Forte, PhD, a research assistant professor at PCE and CTC and currently the director of Immunoproteomics at PCE, oversees these collaborations.
"Transplant recipients are kept under immunosuppressants to prevent the immune response to reject the foreign organ. These drugs, however, can be harmful to patients," Forte says. "Predicting which patients will experience organ rejection in advance would provide critical information to doctors sooner so they can intervene to avoid organ failure."
Few projects aim to help transplant patients retain transplanted organs without immunosuppression. Together with Levitsky, the PCE team is looking to characterize the proteome of immune cells from liver transplant recipients undergoing immunosuppressant withdrawal. The project's goal is to determine mechanisms of tolerance and develop alternative and safer therapeutic strategies for immunosuppressant drugs.
"CTC is researching ways to help patients before their transplants," says Nadig. Researchers at PCE aim to assess the quality of the pre-implant organ through the discovery of specific proteoforms linked to successful transplants. This pretreatment strategy would enable doctors to target the organ instead of the patient for immunosuppression.
"That may allow us to help condition them better and allow for a longer organ and patient lifespan," Nadig says. By focusing on suppressing the organ instead of the entire body, the patient will still be strong enough to fight off diseases and side effects of the transplant.
In response to the COVID-19 pandemic, PCE scientists developed a new mass-spectrometry platform called Ig-MS for the analysis of antibodies produced against SARS-CoV-2 and its variants. Forte applied this sophisticated approach to organ transplantation research.
"Through this analysis, we can characterize the entire repertoire of antibodies targeting SARS-CoV-2 in COVID-19 patients and individuals who received COVID-19 vaccines," Forte says. "We are using this novel analysis to determine differences in the antibody response of transplant patients, who are chronically immunosuppressed to avoid rejection, compared to those generated by non-transplant recipients". This work is conducted in collaboration with Daniela Ladner, MD, MPH, a professor of surgery at CTC, and is supported by the Dr. Michael M. Abecassis Transplant Innovation Endowment Grant.
"What's really great is that Northwestern has a top-tier transplant program and a top-tier proteomics program, which does not exist in most places in the world," says Nadig. To be able to bring those two together elevates the entire institution and university."
Feature image: (Left to right: Proteomics Center of Excellence researchers involved in CTC projects: Che-Fan (Jeffrey), Huang, PhD, Pei Sue, PhD, Benjamin DeS Soye, PhD, Eleonora Forte, PhD, Fatma Ayaloglu Butun, PhD, Rafael Melani, PhD, and Vijaya Kanchustambham, PhD. Others not pictured: Neil Kelleher, PhD, Nathaniel Henning, PhD, Michael Hollas, PhD, and Michael Caldwell, PhD)
by Grace Finnell-Gudwien