Chemistry of Life Processes Institute (CLP) director Neil L. Kelleher and members of the CLP and Northwestern Proteomics team welcomed U.S. Congresswoman Jan Schakowsky from the 9th District of Illinois to Silverman Hall today to discuss the promise and potential of the Human Proteoform Project (HPfP). Other guests included Barbara Cornew, District Director, Cook County District 14, and Andrew Goczkowski, Mayor, City of Des Plaines, IL.
Kelleher, the Walter and Mary E. Glass Professor of Molecular Biosciences, Professor of Chemistry and Medicine, is at the forefront of the estimated $1.3 billion, ten-year effort to define the proteins in every tissue, fluid, and cell type in the human body. To date, only about one-half of one percent of all proteoforms – specific forms of our proteins including modifications – in the body have been identified and measured, Kelleher says. This knowledge holds the key to earlier detection and better treatments for cancer, neurological disorders, heart disease, and many other conditions.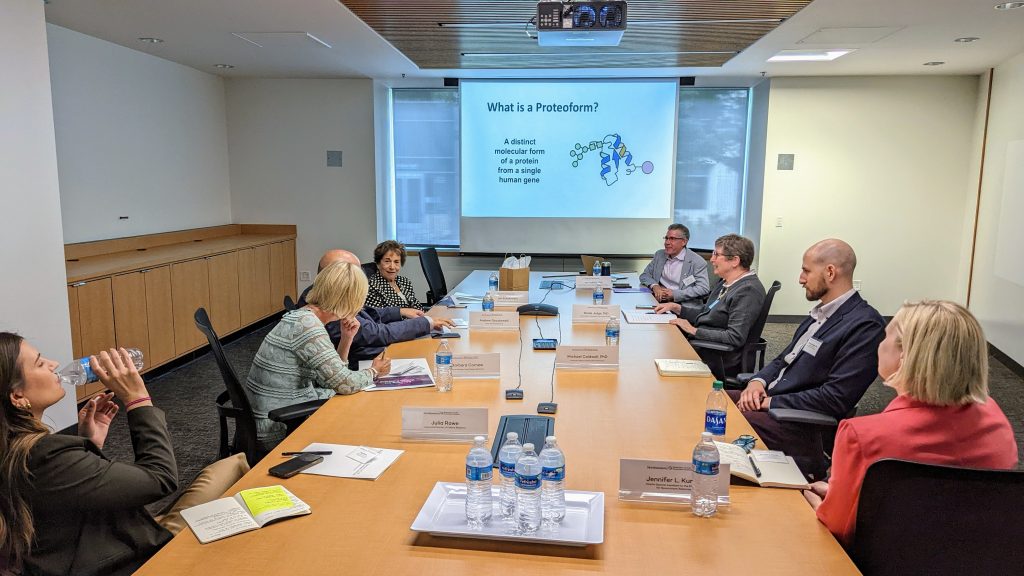 In addition to improving the healthcare of our nation, Sheila Judge, CLP's Senior Director for Research Education and Administration, informed the Congresswoman that the project will make possible technological leaps to lower the cost of healthcare and facilitate greater equity in the delivery of medical care.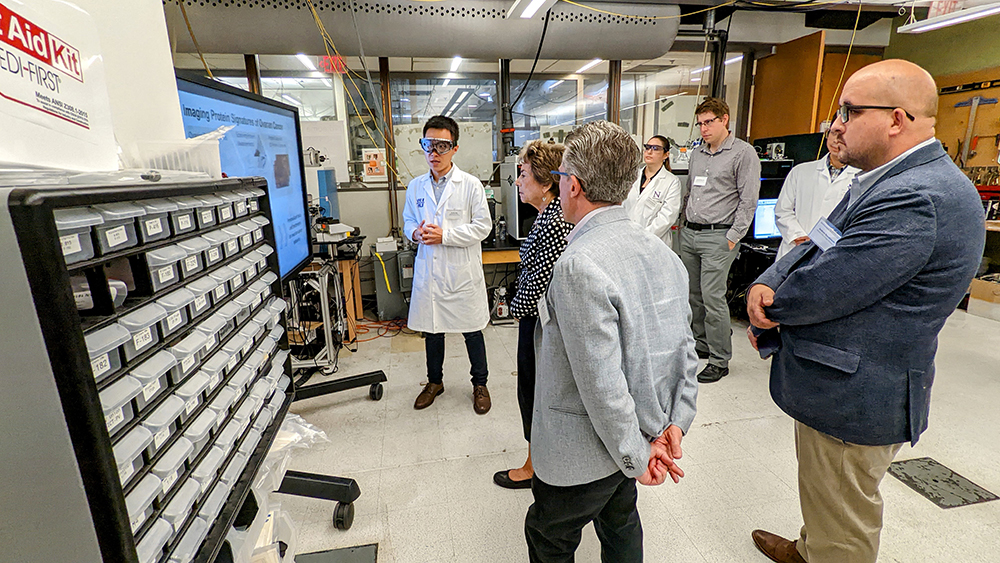 Congresswoman Schakowsky's visit concluded with a tour of Northwestern Proteomics, one of the nation's leading centers for proteomics research. Senior staff members Michael Caldwell, Jared Kafader, and Eleonora Forte, post-doctoral fellows Jeffrey Huang and Pei Su and graduate student Alexander Lee demonstrated how techniques and technology developed at Northwestern are enabling critical insights into liver transplant rejection and ovarian cancer.
Earlier this year, Northwestern Proteomics published a study in Science identifying unique protein signatures in the blood that could be predictive of liver transplant outcomes opening the door to a non-invasive test that can tell doctors when a patient is on the way to having complications or rejecting a transplant. This knowledge will allow doctors to provide pre-emptive treatment before a crisis arises. Similarly, a new technique recently accepted for publication in Science Advances enables the mapping of proteins in thin tissue slices. These protein maps can give greater insight into the makeup and organization of a cancer patient's tumor to help doctors customize treatment for a specific patient and tumor.
Story and photos by Lisa La Vallee